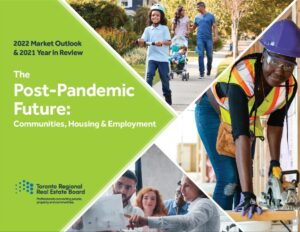 The Wait Is Over! 2022 Market Outlook & Year in Review Report Is Here
The 2022 Market Outlook
Demand for ownership will remain strong in 2022. TRREB is forecasting:
Total home sales reported through TRREB's MLS® System in the GTA will reach 110,000, representing a dip from 2021, but still a strong result in comparison to previous years; and
The average selling price for all home types combined is set to climb to $1,225,000, an approximate increase of 12 percent when compared to last year.
Key findings from the latest buying and selling intentions include:
The number of prospective buyers for 2022 has dipped relative to previous years, including overall first-time buyers; and
The number of current homeowners who are very likely to list their home for sale in 2022 was also down.
The Rental Market Outlook
Last year, the rental market reached a record high of 55,000 transactions after the pandemic-induced downturn. In 2022, we can expect:
Competition to grow stronger as a result of immigration and continued job creation;
Supply to remain tight; and
Average rents to recover to the pre-pandemic high or beyond
The 2021 Year in Review
In 2021, we experienced several record-breaking months of sales.
Takeaways from the GTA housing market included:
An average selling price of $1,095,475, up by 17.8 percent from 2020;
A strong resurgence of condo sales in Toronto, new condo sales up by 50 per cent;
Total home sales reached 121,712, exceeding the previous record set in 2016 and also up from 95,066 sales reported in 2020; and
An increase in new listings versus 2020, but by a lesser annual rate then sales, so market conditions actually tightened leading to double-digit price growth.
What Trended in New Homes
According to Altus, the demand for new homes continued in 2021, on pace for the third-highest year on record. The highlights for new homes were:
Single family new home sales started the year up but lost steam as the year progressed, with total sales about 20 percent less than 2020;
Pre-construction transactions for new condominium apartments soared; and
The City of Toronto and Durham Region led the way for pre-construction sales.
The outlook for 2022 remains uncertain given the ongoing pandemic. However, demand coupled with dwindling inventories will put upward pressure on prices.
Breaking Down Commercial Trends
Office, industrial and retail spaces endured varying impacts of the COVID-19 pandemic. However, the commercial market experienced increased market activity in the first three quarters of 2021. The drivers and trends were:
Demand was strongest for industrial spaces and land sites across the GTA;
The office sector showed some signs of a rebound, but availability rates remain high; and
Development activity continued to thrive, representing a clear indicator of strong confidence in the market moving forward
Moving into 2022, the pursuit of land and industrial assets is expected to continue.
Shifting Work Patterns and Real Estate Needs
TRREB's joint research with the Toronto Region Board of Trade and Maru Public Opinion brings together insights from both business executives and workers on what the "new normal" may look like and how real estate needs, employment and work patterns may shift in response.
The results uncovered:
There is a need for a hybrid or flexible post-COVID working arrangements;
Employees will find it difficult to return to the office full-time;
Downtown core offices may not need to accommodate as many people as before COVID as a result of continued working from home; and
Policies will need to balance the desire to keep working from home while also making use of the office.
Download the full report and delve into key market drivers and highlights.